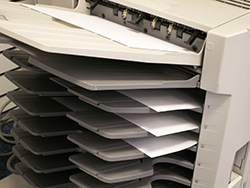 Printers Company: offers a variety of professional solutions to complete your project and give it that last touch. Need an extra flair for your project? We want to make you look like a pro!
Printers Company is among the premier print shops in Los Angeles, and we're proud to offer top-quality binding options to suit your needs. Our professional team can do comb binding, velo binding, wire binding, hard or soft perfect binding, and saddle-stitching, all done on premises by our expert staff. Binding is the final touch for your brochures, booklets or pamphlets – so make sure your project looks its best with one of our binding solutions.
Make your project stand out with our range of additional finishing options. We offer embossing, scoring, hole-punching, and trimming. Once you've got your documents looking the way you want, we can fold, perforate, number, seal and mail them, ensuring that the printing process is streamlined and efficient from beginning to end. Use our binding and finishing options to enhance and mail your prints – leaving you with more time and less stress.
At Printers Company, we believe in options. That's why we offer a complete selection of mounting choices: foam core, gator board, matte, gloss, or satin lamination. Your photos, exhibits, and color copies have never looked better.
For extra flair, we also offer custom tabbing. This process allows for the addition of a small decorative flap or tongue attached to the binding to make it easy to bookmark an important section or simply add an extra touch of class.
Our in-house experts are happy to provide custom lamination for your project. In this process, heat and pressure are used to seal a layer of transparent plastic film to your print. This will protect your sensitive documents from damage to keep it looking as clean and professional as the day we print it.
• STAPLING
• COLLATING
• TABS
• DRILLING
• HOLE PUNCH
• PADDING
• FOLDING
• SCORING
• CUTTING
• INSERTS
• COVERS
• BATES STAMPING
• BINDING
• LAMINATION
• MOUNTING…
& MORE!
For pricing, call us at (310) 207-5507 or fill out our online request form.