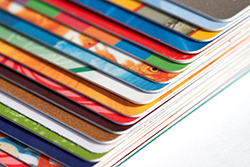 In Los Angeles, a well-planned, and creative business card is the difference between your potential clients remembering your company and your business card collecting dust along with others in the back of a file cabinet.  There are a great deal of companies that will sell you fancy business cards that may or may not reflect your corporate image and are not consistent with your branding.
Printers Company is a professional business card printing company that will make certain we sit down with you and create a corporate business card that presents the overall ambiance of your corporation. We make sure that your corporate business card is never just sitting on a pile.
A Corporate Business card designed by Printers Company will make it comfortable to present actionable company details and your role, which will ensure a friendly follow up after conferences, networking events or when you have handed your card out randomly to someone who may need your services.
At Printers Company, we do not use website templates, and we don't charge people an arm and a leg for a great corporate business card. We go to great lengths to learn about your company and industry, to make certain you have the best corporate business card. Website templates cannot give you the personalized service that Printers Company offers. Just give us a call, one of our specialists will conduct an initial telephone interview and can schedule a face to face meeting with your representative to make sure all your corporate business card needs are satisfied without the use of templates and cost cutting measures.
Printers Company can design creative print that exceeds your imagination. Your ideals will come to life with the assistance of our creative designers and our print professionals. We offer embossing, 4 color processing or 2 color processing sport for brochures or catalogs, flyer design, door hangers, post card and business card design, calendar design. We are a full service corporate print shop that also carter to government and university systems.
Printers Company Can design and print your complete Corporate Identity Package Including:
• Business Cards
• Notepads
• Letterhead
• Envelopes
• Presentation Folders
If you're looking for a new corporate identity or a redesign we can send one of our design specialists to evaluate your vision and create some initial designs that fit our overall style.